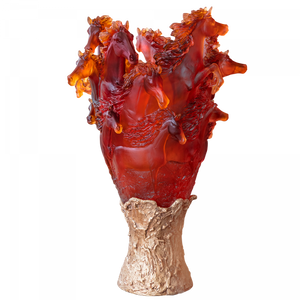 Limited edition of 50
H: 33.9" Ø: 22.4"
137.3 lbs
The Maison Daum reveals its exceptional savoir-faire passed down through generations with the launch of the Cavalcade Prestige Vase.
This magnificent vase with its impressive height and patinated bronze base is one of the most majestic in the current Daum collection.
The crystal upper vase depicts a herd of horses running freely and fearlessly in the wild. The horses have been delicately sculpted to elaborate their beautifully-structured heads and determined stares. The amber tones reveal the fiery and energetic spirit of the handsome creatures.