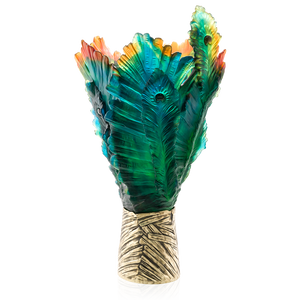 Limited edition of 99
H: 29.9" L: 17.7" W: 17.7"
Summer 2021 exclusive item 
The Fleur de Paon collection is highlighted once again with the launch of two exceptional limited edition vases. Paying tribute to the wonders of nature, Fleur de Paon celebrates the vibrant jungle life with this half-plant, half-animal imaginative theme. This collection demonstrates all the know-how of the crystal manufacturer, its perfect mastery of details, of finely sculpted motifs, and of colours. The Art of blending colours is revealed to obtain these subtle effects, the nuances of green and blue, accentuated by touches of warm amber. Daum offers two new creations this season: a majestic vase of impressive dimensions, mounted on a patinated bronze base. The creation of this prestigious piece required more than 500 hours of work, and all the unique know-how of the artisans of the crystal manufacturer. A vase adorned with precious gold leaf finishes is also revealed. The ancestral technique of applying gold leaf by hand is realized in our ateliers.