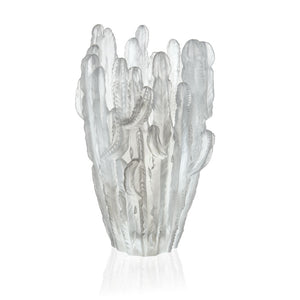 Numbered Edition
H: 16.1" L: 9.8" W: 9.8"

25.4 lbs
Emilio Robba is one of the most celebrated floral art designers in the world. Born into a family of artists, he quickly became captivated by the artistic world. His first chose to take up painting, studying the language of forms and colors at the Academie des Beaux-Arts. He then turned quickly to floral art, guided by his fascination with nature.
Inspired by the natural world and trends of interior design, Emilio Robba has created for Daum and extraordinary garden of Cacti, where the delicacy of the crystal contrasts with the toughness of the cactus. The crown jewel of this collection is a sculpture over one meter tall, which testifies to the exceptional savoir-faire of the manufacturer's skilled craftsmen. This spectacular decorative piece in crystal carved with meticulous details is accompanied by a large agave leaf centerpiece in soft shades of green and a cactus vase offered in options of grey-white or green.