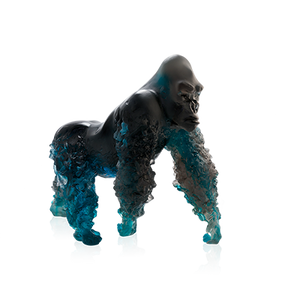 Limited edition of 125 
H: 13'' L: 16'' W: 7.9'' 
30.4 lbs 
"The Gorilla has been the subject of a specific work on attitude and material. The polished silverback contrasts with the unstructured aspect of the arms, and the magma of mechanical parts, screws and nuts. The colour, the shadows and the bursts of light of the crystal accentuate my delicate work." Jean-No
As an earnest supporter of the French art scene and a crystal manufacturer deeply rooted in Nancy's history, it is only natural that Daum instigated a new collaboration with this local artist.
The Maison Daum crystallizes the powerful gorillas of the artist. Initially works in iron and steel, created from the fusion of recovered nuts, screws and bolts, they are transposed in crystal paste, this fragile, soft material with subtle colours, and arouse a new emotion.
The crystal manufacturer, master of the crystal paste, stays true to the favourite material of the artist, and unveils a perfect reinterpretation masterpiece of the rendering of the fusion of metals.