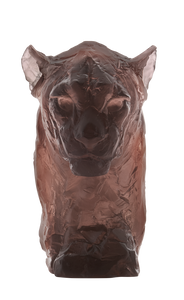 Limited edition of 125
H: 14.1" L: 8.6" W: 11.4"
60.4 lbs
Patrick Villas was born in 1961 and trained at the Royal Academy of Fine Arts in Antwerp. Since 2010, he has lived and worked in France. His works are exhibited worldwide, and his international agent is Galerie Bayart in Paris. Patrick Villas follows in the line of the great animal sculptors like Antoine-Louis Barye (1795-1875) and Rembrandt Bugatti (1884-1916). His work is far from the smooth and shiny animal bronzes of the 19th century. He prefers a more raw, energetic approach to the material, always remaining faithful to the traits and character of the animal. This roughness, these asperities give even more presence to his sculptures. All the power, elegance and flexibility of his models emerge under the light, and his racy and nervous traits introduce animal art into contemporary art.
For his first collaboration with Daum, Patrick Villas created this proud and powerful panther's head sculpture. Felines are a central theme of Villas' work, and this time, the motif is translated into Daum crystal. The material, worked with the lost-wax technique, preserves the rough modeling traces that are characteristic of Villas' style. This sculptural evidence of the artist's hand leaves the piece with a contemporary, painterly aesthetic, and it picks up a new emotional momentum through light and texture.
"In my work, I use shadows and natural light to create a living interaction between the viewer and the work. I suggest the details and the shadows complete them. Throughout my career, I have researched different materials and techniques: painting, sculpture, bronze, clay, ceramics and now crystal. I've know Daum since my youth; when I crossed the whole of France in search of antiquities and captivating objects, the vases and lamp shades by Daum particularly touched me. Having the opportunity to create in partnership with Daum Nancy is an honour."