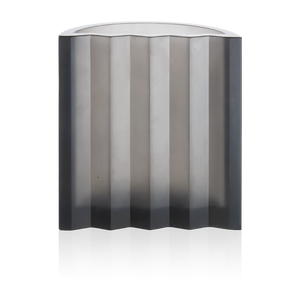 Limited edition of 300
H: 9.8" L: 8.5" W: 4.3"
13.4 lbs
Born in Paris in 1985, Victoria Wilmotte lives and works in Paris. She studied at the Camondo School in Paris, and later at the Royal College of Art in London. In 2009, Wilmotte created her studio in Paris. VW has become an established brand through many personal creations and collaborations with numerous clients. In 2015, she opened her production studio where she designs and produces limited series, small-scale productions, and prototypes.
Victoria has always developed a special interest in materials, shapes, and manufacturing processes, both industrial and artisanal. Mineral and steel remain her preferred mediums, and she has a methodical fascination and meticulous approach to her work. Now with Daum, she expresses her radical, sculptural style in crystal, with this ultra-contemporary collection. Wilmotte's edgy design merges with Daum's ancestral savoir-faire to offer a series of coloured vases with straight lines and sharp angles that exude great elegance, the hallmark of the 140-year-old manufacturer.