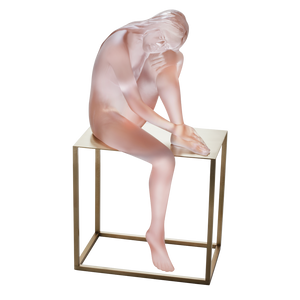 Limited edtion of 125
H: 17.5" L: 7.5" W: 9.1"
16.5 lbs
Alain Choisnet prefers to work in bronze for its warmth and nobility, which he believes helps to convey a more emotional message. His artistic approach tends to suggest airs of calmness and serenity to the viewer. Choisnet chooses to communicate these qualities through feminine forms; offering a soothing and graceful image of women armed with both modesty and sensuality. His sculptures exalt feminine beauty, immortalizing a gesture, emotion, or attitude. This piece, titled "Louison," rendered in soft pink "pâte de cristal," has a natural and juvenile charm, immersing the viewer in a particular emotion.