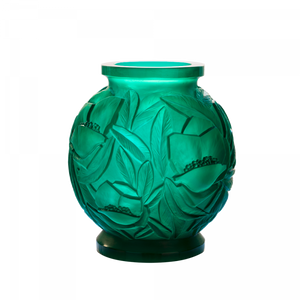 Limited edition of 175
H: 13.4" Ø: 11.8"
36.8 lbs
In honor of the 140th anniversary of Daum, the workshop wanted to draw inspiration from the influences of the past to reinterpret the Art Déco style of the 1930s through a new collection: "Empreinte."
From glass to crystal to floral inspirations, Daum pays homage to its heritage through the use of "pâte de cristal" and the lost wax technique. The development of this collection came naturally, following a reinterpretation of the iconic mushroom lamp "Resonance," inspired by the Art Nouveau period.
This collection includes three vases and two candle holders which echo the history and rich patrimony of Daum.
A large emerald green, gilded vase captures light and shines as the major piece of the collection. Buttercups and plants sculpted into the material by the modeling workshop are transformed into a modern work of art, though created through a traditional craft. Two vases in a choice of deep blue or emerald green embody a new interpretation of the palette of colors created by Daum's artisans.
For this anniversary, Daum embodies the history of the French decorative arts by creating a collection that boasts the aesthetic codes of Art Déco, imbued with a contemporary spirit.