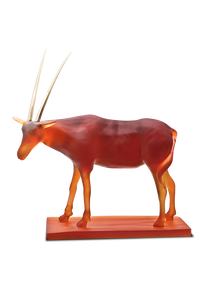 Limited edition of 99
H: 15.7" L: 15.4" W: 5.5"
20.3 lbs
This sculpture of an Oryx, imagined and reinterpreted by artist Hicham Lahlou in partnership with Daum Crystal, makes an elegant statement. Its sleek yet highly naturalistic silhouette gives the object a quasi-mystical presence. Its rich amber color and gilded horns add to the magic, inciting emotion and curiosity.