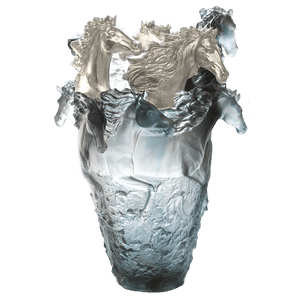 Limited edition of 25
H: 19.7" L: 15.7" W: 15.7"
55.78 lbs
Daum presents the Horse Vase in grey-blue with three silver horse accents. The intense color and refined details thoughtfully added to these pieces bring to life the scene of thoroughbreds galloping freely in the fields; their manes blowing in the wind; their muscular legs and hoofs frenetically beating the dust. Daum's exceptional crystal paste method captures the movement of these wild creatures to create these remarkable vases.