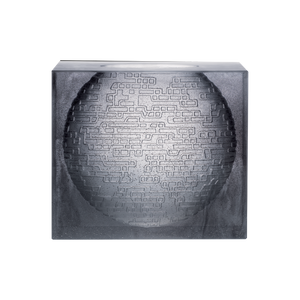 Limited edition of 125
H: 11.8" L: 13.8" W: 4.7"
75 lbs
Artist Jean-Marie Massaud designed this Kumara vase for Daum, available in a limited series of 125 silver-grey vases. Beyond the purety of its lines, the deep hue of the silver-grey crystal invites us to decipher the esoteric symbols inscribed in its surface. The Kumara is a powerful piece, a crystal block animated by an intense interior life with enigmatic character.