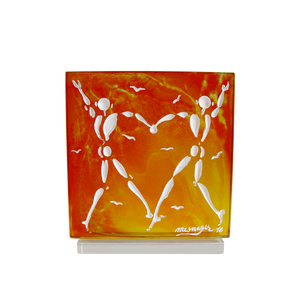 Limited edition of 8
H: 12.6" L: 11.8" W: 1"
16.5 lbs
For his collaboration with Daum, artist Jérome Mesnager has created a series of abstract human figures engraved in blocks of crystal. While one façade is perfectly polished and smooth, the other is rough and uneven like wood, Mesnager's preferred medium. This work of art marries the delicate nature of crystal with the rough-hewn texture of natural materials.
In this particular piece, "Love Dance," the white silhouettes strike a poetic contrast against the luminous amber color of the background and the transparency of the crystal, creating an illusion of infinite space.