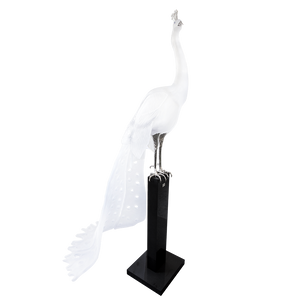 Limited edition of 8
H: 74.8" L: 51.2" W: 45.3"
440.9 lbs (Total weight with the base)
An original work by renowned sculptor Madeleine van der Knoop, the crystal "Tropical Peacock" design is realized by crystalworkers in Daum's ateliers using the lost wax technique. The crystal sculpts light and reveals the elegance of the peacock and its luxuriant plumage. The nuances of blue-green and violet, enhanced by the bird's sparkling diamond and amethyst eyes, highlight the beauty of this ornamental creature, made possible by Daum's unique savoir-faire. This work of art makes a strong statement in any room with its spectacular presence and fine finishes.
• Eyes in sapphires and white diamonds
White gold: 9 carats
Diamonds: 1.95 carats
Blue Sapphire: 1.9 carats
• Crest of the peacock in 15 white freshwater
cultured pearl, mounted on Palladium coated
sterling silver 925
• Brass beak, palladium finishing;
• Bronze legs, palladium finishing;
• Polished black granite base from Zimbabwe.