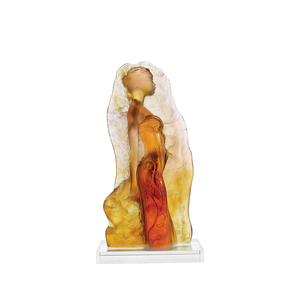 Limited edition of 175
H: 19.7" L: 10.2" W: 6.3"
20.1 Ibs
Marie-Paule Deville Chabrolle, a French painter and sculptor, studied at the Ecole des Beaux-Arts in Pau and spent two years in the Phnom-Penh Fine Arts faculty in Cambodia. The artist's approach is a highly personal adventure. Every encounter, every country she has travelled through, every image glimpsed, and every emotion experienced contribute to her creation. Her works are a passionate tribute to grace and femininity. She draws, sculpts, and transforms women in bronze, producing curved figures of expressive gentleness that emanate a sense of contemplation and inner strength. Her works are exhibited in the Galeries Bartoux in Paris, Megève, Cannes, London, New York and Singapore.

"When Daum came into my life, I realized that the light and the elusive colours of the sky were made possible to carve. How could I have resisted? I confided my first sculptures impatiently to see how my earth, so heavy and full, could have color, transparency and light… It was so beautiful yet so different…so began our collaboration. I confided my earth to them, so that alchemy takes place, giving me light and dazzling colors that cross the sky. My wonder still lasts with each new sculpture." —Marie-Paule Deville Chabrolle
"Pénélope" is a product of the collaboration between Daum and Marie-Paule Deville Chabrolle.