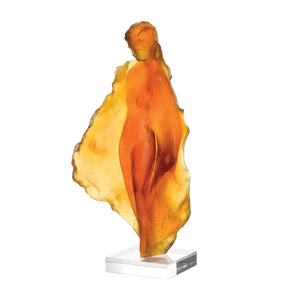 Limited edition of 175
H: 19.7" L: 9.1" W: 7.1"
24.7 lbs
Michel Coste, a french sculptor born in 1939 in Aix en Provence, combines writing and sculpture in his artwork. He works principally with natural marbles, carving directly into blocks of marble found in streams. This method is recognized as an original and unique approach, and a fundamental study of the medium. He began to experiment with crystal paste for this partnership with Daum for the clarity, luminosity, and translucence that can be achieved for sculpted faces and bodies, giving a new dimension to his work.
"Marine" is a silhouette of a woman frozen in amber crystal. Everything in this piece is done in the spirit of play with light, transparency, and opacity.