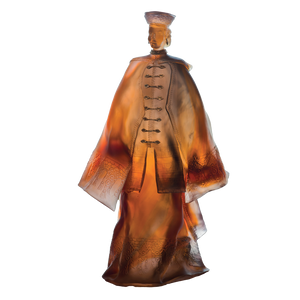 Limited edition of 8
H: 34.3" L: 19.7" W: 13.8"
124.3 Ibs
Accessories in gilded copper
Paul Beckrich wished to create a feminine character for this sculpture, and so designed this Chinese woman with a determined temperament, combining grace, beauty and intelligence. This character is the most illustrious Empress of the Tang dynasty: Wu Zetian. She called herself "Zhao" during her reign. Zhao signifies light of the sun and the moon, illuminating all four corners of the Earth.
The transparency and brightness of Daum's crystal paste brings Zhao back to life. Her buttons, necklace, and earrings in gilded pewter and the detailed and refined motifs on her coat accentuate her majestic appearance.