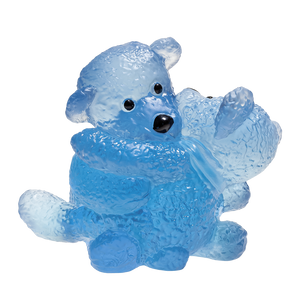 Limited edition of 375
H: 4.3" L: 4.1" W: 4.1"
2.9 lbs
Serge Mansau is an artist, sculptor, and scenographer. He gained international recognition in the perfume industry in the 1960s. He founded his design studio in 1964 and quickly immersed himself in the universe of perfumery. His talent has been called upon to create perfume bottles for renowned brands, such as Lancôme, Guerlain, Cartier, Dior, Givenchy and Hermès, and portrays the world through the eyes of a child with sophistication and poetry.
Instinctive and spontaneous, his masterpieces are the result of a complete artistic freedom. Thanks to his many experiences with perfume bottles, he has become a master of glass. It is without doubt that this mastery would lead to a collaboration with Daum.
Daum and Serge Mansau collaborate once again to create the Doudours Twins (or teddy bear twins, in English), available in two colors. The bear cubs hugging each other are a reminder of our childhood.