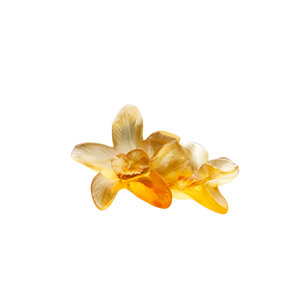 H: 2.2" L: 5.1" W: 3.5"
0.66 lbs
From the Caribbean to Madagascar to Indonesia, leaves from bamboo, banana, and coconut trees are braided in the art of basket weaving. This ancestral practice requires only fresh leaves and excellent dexterity; its use is near ubiquitous for everyday items such as baskets, hats, fences, and decoration.
Daum's creative studios explore this art form by adapting the basketweaving technique to sculpture. Natural fibers are braided and then reshaped into vases and bowls. Fronds of different plants criss-cross and blend—fresh, green, and slender—forming vessels where one can showcase cut flowers or freshly-harvested fruits. For an added touch of lush, tropical flora native to the islands where basket-weaving is still common practice, yellow vanilla flowers adorn and perfect these beautiful pieces.